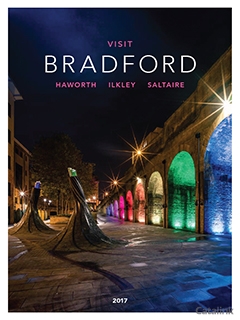 (Average Rating 4.0/5.0 from 129 members)
Bradford and District Visitor Guide Brochure
Bradford is a city full of surprises. The world's first UNESCO City of Film, Bradford is a thriving cultural destination with a packed events calendar, award–winning museums, galleries and impressive theatres. Wondering what to do in Bradford? Find some of Yorkshire's best attractions and events there including:
The National Media Museum
Impressions Gallery
Bradford Industrial Museum
The World Curry Festival
The Ilkley Literature Festival
There's also a celebration of written and spoken words at the Bradford Literature Festival in the company of world-renowned authors, poets, musicians and artists. Continue your exploration at the Brontë Parsonage Museum, one of the oldest literacy societies in the world. Head to the Saltaire UNESCO World Heritage Site where you'll find enduring beauty in the form of historic architecture and gardens. If that doesn't take your breath away then visit the incredible David Hockney Exhibition at Cartwright hall, offering an unrivalled collection of early work including inspiring sketches, paintings and photographs. There is also miles and miles of beautiful countryside to explore. Visit Ilkley and walk on Ilkley Moor or see the windswept moors that inspired the Bronte Sisters. You can learn more about their lives at the Bronte Parsonage Museum in Haworth. Some of the best accommodation in West Yorkshire can be found in Bradford, with city centre hotels, guest houses and self–catering accommodation to suit all budgets. Request a brochure today to plan your trip to plan your visit and see some of the highlights and must–sees in this fascinating area.