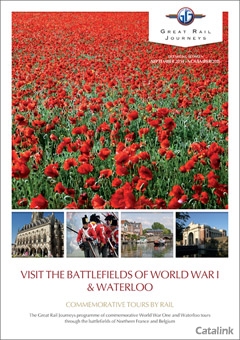 (Average Rating 4.3/5.0 from 17 members)
Great Rail Journeys - Battlefields Brochure
Commemorative tours by rail
Celebrate the bravery and commemorate the sacrifices on poignant tours of some of the most significant battlefields of European history. Decades of experience in crafting memorable tours by rail ensures you can concentrate on what matters most on a unique and respectful selection of journeys. Their meticulous itineraries and insightful tours will guarantee you travel in comfort whilst appreciating the significance of each site. Tours include:
200th anniversary of the Battle of Waterloo
Remembrance Day in Flanders
Arras & The Somme battlefields
Bruges, Ypres, Lille and Flanders
Respectful, insightful battlefield tours
Whether to remember the involvement of relatives, pay your respects to those who fell or discover some of the most pivotal events in history, Great Rail Journeys will deliver precisely what you demand. Order your copy of the Great Rail journeys – Battlefields brochure now to experience for yourself what should never be forgotten.