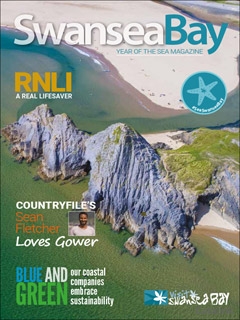 (Average Rating 4.4/5.0 from 206 members)
Swansea Bay Newsletter
Sea Swansea Bay
Swansea Bay - the perfect location for a coastal adventure. From family holidays and romantic weekend getaways to walking and adrenaline-packed experiences, check out the links below:
Award-Winning Beaches
With around 20 to choose from, there is a beach in Swansea Bay to suit every mood and activity. Whatever seaside experience floats your boat, you'll find a sandy superstar that fits the bill. And with two in the UK's Top 10 as voted in the 2018 Trip Advisor Traveller's Choice Awards (Rhossili Bay and Three Cliffs Bay) why would you go anywhere else?
Walking
Swansea Bay is home to some of the UK's best walking routes – with the 38 mile Gower Coast Path the jewel in its glittering crown. From the rugged limestone cliffs in the south, past the wide sandy beaches in the west and on to the otherworldly saltmarshes in the north, every Gower mile throws up fresh surprises.
Watersports
Swansea Bay's beaches aren't reserved for sunbathers. They're also the perfect arena for all kinds of sports and games. Try your hand at everything from beach volley, beach rugby and tennis to Ultimate Frisbee, sandy games of soccer, SUP and surfing. If you prefer your beach games a little speedier, try wild and windy kite-buggying and sandboarding from Gower Kite Riders.
5 Unique Destinations
Swansea Bay is the name we use to roll five great experiences into one. From the waterfront city centre set on a sandy 5 mile stretch of Swansea Bay Beach to cosy, cosmopolitan Mumbles, the countryside of rural Swansea, the waterfalls of Afan and the Vale of Neath and the Gower Peninsula – the UK's first Area of Outstanding Natural Beauty. Whatever you look for in a holiday, you will find it in Swansea Bay.
Sign up for the Newsletter today to keep in the know about everything Swansea Bay.