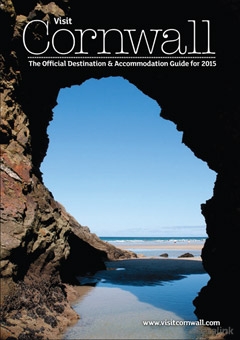 (Average Rating 4.3/5.0 from 3832 members)
Visit Cornwall Brochure
A land of wonder and exhilaration – right on your doorstep Cornwall is a holidaymaker's dream. Whether you're an adventurer, an explorer or just love the seaside, experience the perfect holiday right here – without having to jump on a plane. Take in a landscape of sweeping coastlines and mysterious monuments as you enjoy the rich and welcoming culture. Discover surprises around every corner and idyllic villages whose cosy pubs and cafes beckon after a long day out. Whatever it is you demand from your holiday, Cornwall will oblige. Find out for yourself why millions return year after year.
Ancient wonders – see iconic sites unique to Cornwall and discover a heritage as fascinating as it is mysterious
When country meets coast – picturesque pastures on one side, dramatic cliffs and a striking coast on the other
A world in each town – explore the personalities and distinct charm of the many towns and villages dotted about the land
Culinary delights – treat your tummy to the freshest local ingredients around – by the beach, at the pub or in a gourmet restaurant
Jump in – walk, cycle, ride or reap the watersport rewards of the seaside
Recharge – giving you the perfect way to relax and unwind, your way
If you haven't experienced Britain's Mediterranean, visit now. And if you've visited before, find out what you missed the last time with a packed brochure that's guaranteed to get you inspired. Wander a coast and countryside like no other. Order your Visit Cornwall brochure today.